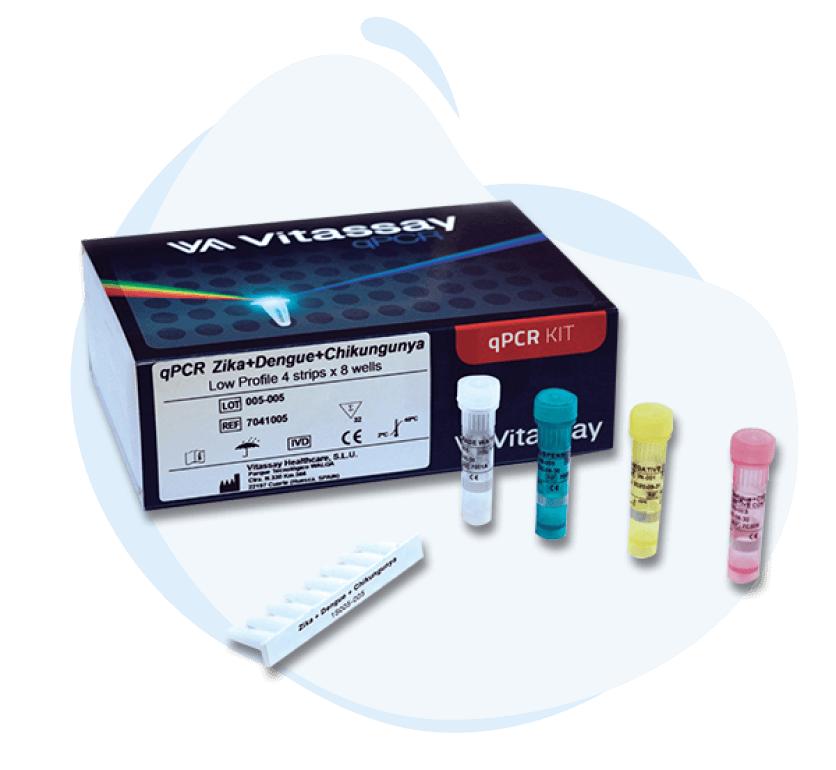 Vitassay qPCR Kits
Vitassay qPCR kits are ready to use real-time PCR assays designed to amplify and detect pathogen.
Vitassay qPCR Kits contains in each well enzymes, buffer, primer and probes as well as an internal control in a lyophilized format.
The kits include a positive and a negative control.
Identification of pathogen DNA or RNA occurs by the use of target specific primers ans fluorecent labeled hydrolysis probes which hybridize conserved regions in the genomes of the differentpathogens.
References QPCR Kits
A wide range of specific and combined tests

Flu A + Flu B

Flu A + Flu B + RSV

RSV A + RSV B

Bocavirus

Metapneumovirus

Adenovirus + Metapneumovirus + Bocavirus

Type Flu 1/flu

Type Flu 2/flu

Parainfluenza 1/3 + 2/4

MERS-CoV

SARS-CoV-2

Rhinovirus & Enterovirus

Panel 1/Respiratory viruses
Bacteria

Bordetella pertussis + B. parapertussis + B. holmesii

L. pneumophila

MTBC/NTM
Tropical Diseases

Zika + Dengue + Chikungunya

Dengue 1+2+3+4

Chikungunya

Dengue

Zika

West Nile

Japanese Encephalitis

Malaria 5

Campylobacter + Salmonella + Shigella/EIEC

Campylobacter + Salmonella + Yersinia enterocolitica

H. pylori

H. pylori ClariRes

Clostridium difficile

Clostridium difficile toxoins A/B
Parasites

Cryptosporidium + Entamoeba histolytica + Giardia

Dientamoeba fragilis

Blastocystis hominis + Dientamoeba fragilis
Virus

Adenovirus

Astrovirus

Norovirus G1

Norovirus G2

Rotavirus

Sapovirus
Fungi

Pneumocystis jirovecii
Sexual

Genital ulcer

HPV

Vaginosis
Antimicrobial Resistance

Vancomycin Resistance
Transplant & Meningitis

BK & JC Virus